First Look: Health T.E.A.M.
When: Saturday, February 11, 2023 | 8:30 am - 4:30 pm
Where: Louis W. Sullivan National Center for Primary Care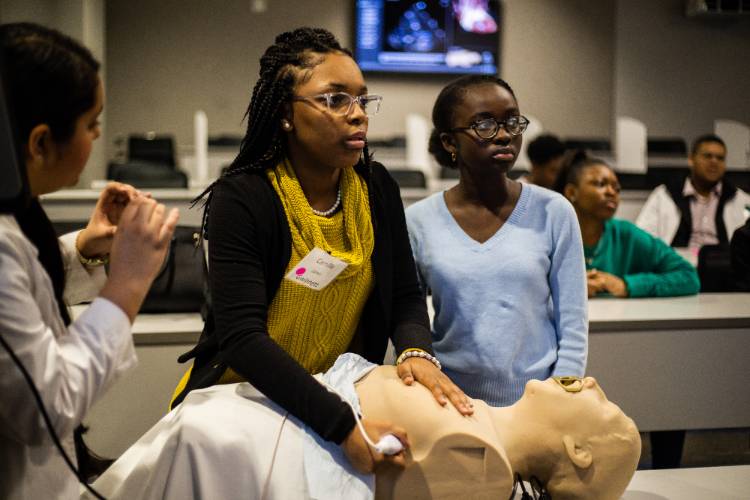 If you're a high school, student with interests in pursuing a career in the health professions, here's your opportunity to receive a "first look" experience with insights into the field of healthcare. Presented as a service initiative by the students in the Master of Science in Medical Sciences Degree Program at the Morehouse School of Medicine, First Look: Health T.E.A.M. is a day dedicated to exploring the exciting world of health careers and college application.
You'll hear from MSM medical students, graduate students, and faculty, as well as undergraduate students and admissions staff, and other invited health professionals guests. Through a series of interactive and informative workshops, you'll find out what majors to consider when to considering a pathway to medicine, gain insights into interviewing skills, prepare your resume, visit the anatomy and clinical skills labs, and even learn how to suture. You'll also hear first-hand what it's really like to be a practicing physician or other health professional, biomedical scientist, and public health practitioner.
Workshop Sessions
Clinical Skills Lab
Anatomy Lab

Resume Writing

Workshop
MSM Student & NMA Physician Panels
Interviewing Skills
Suture Clinic
This will be an invaluable opportunity for any high school student who has considered the health professions, as well as collegiate application. If you would like to attend the event, click the link below to register.
Registration is FREE but REQUIRED! Spaces are LIMITED and may fill before the February 7, 2023 deadline. Participants must be fully vaccinated, provide proof of vaccination, and proof of a negative COVID-19 test within 48 hours of program attendance.
For questions regarding information for First Look, please contact us at msmfirstlook@gmail.com or msmsprogram@msm.edu.
For any additional questions or information, please email Chermayne Hardaway or Dr. Rita Finley