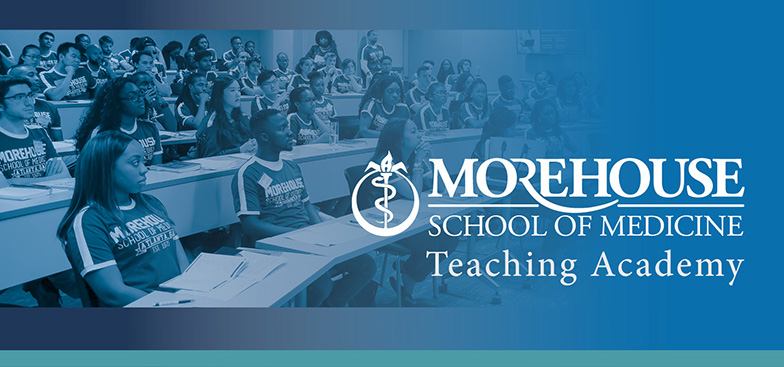 Teaching Academy
Welcome to the Teaching Academy, where we honor and develop Morehouse School of Medicine best faculty and master teachers by bringing together the best teaching faculty from across campus to create a collective voice for teaching excellence.
Meet MSM's Inaugural Teachers of Distinction
The new Teaching Academy at MSM recently named its first four "Teachers of Distinction," faculty members – including a husband-and-wife team – who demonstrate service, integrity, and commitment to excellence in teaching. Nominated by their peers, these exemplary teachers also bring a proven record of accomplishment and commitment to the mastery of subject content and effective delivery, leading and supporting innovation in teaching and facilitating the exchange of ideas within and across disciplines.
Here are MSM's first-ever Teachers of Distinction:
| | | | |
| --- | --- | --- | --- |
| Janice Herbert-Carter | Marjorie M. Smith | Quentin Ted Smith | Carey Roth Bayer |
| | | | |
Nominate a Teacher of Distinction
Professional Development for Teaching Faculty
Why become a Mentee in the Teaching Academy?
Faculty with a passion for teaching and mentoring can apply to be a Mentee of the Teaching Academy'. Mentees will attend faculty and professional development activities to enhance and grow their skills in teaching. Each mentee will be mentored by the Teaching Academy's Teachers of Distinctions Professional Development for Teaching Faculty program. Mentees of the Teaching Academy will play a critical role in sustaining and advancing the Teaching Academy programs. Mentees will have opportunities to observe high quality teaching and to be observed. Individualized coaching on teaching materials, methods and career advising. Lectures and skill building courses from Teachers of Distinction.
The Teaching Academy programs and resources are available to any faculty, educators, trainees, and mentors within the School of Medicine. To support the education of the mentees the MSM Teaching Academy Professional Development for Teaching Faculty will provide protected release time to allow participation in all activities.
Requirements for Mentees
Commitment to 4 hours per week of service to the Teaching Academy, including participation in teaching and mentoring skill development sessions.
Evidence of commitment to education, teaching and mentoring, as evidenced by: participation in teaching and/or mentoring at Morehouse School of Medicine; teaching and mentoring skills development activities (conferences, workshops, coaching, etc.).
12-Month minimum commitment- July 1, 2023 - June 30, 2024.
Letter of Support from Chair and if applicable Center Director.
Application deadline is May 12, 2023.