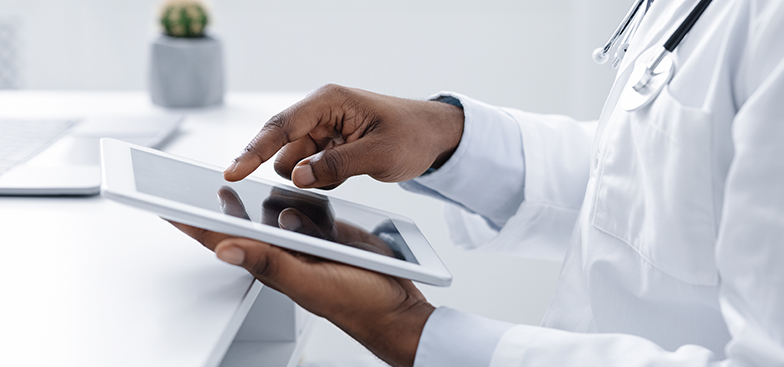 Curriculum
Semester I Term I (8 weeks)
Introduction to Value-Based Care Models and the US Healthcare System - 2 credit hours
Introduction to Health Informatics - 3 credit hours
Semester I Term II (8 weeks)
Clinical Operations, Thinking & Communication - 3 credit hours
Health Information Technology (HIT) Standards & Interoperability - 2 credit hours
Semester II Term I (8 weeks)
Clinical Decision Support Systems - 3 credit hours
Legal, Ethical & Social Issues and Risk Management - 2 credit hours
Semester II Term II (8 weeks)
Information System Acquisition & Lifecycle - 3 credit hours
Project Management- 2 credit hours
Semester III Term I (8 weeks)
Data Mining & Analytics Techniques - 3 credit hours
Elective #1 (see below)
Semester III Term II (8 weeks)
Consumer Digital Health - 3 credit hours
Elective #2 (see below)
Semester IV Term I (8 weeks)
Health Science Capstone Practicum - 3 credit hours
Big Data Management & Analytics- 2 credit hours
Total to degree completion: 35 credit hours
List of Elective Courses (two electives are required for degree)
Leadership in Healthcare - 2 credit hours
Digital Therapeutics & App' Development - 2 credit hours
Public Health & Healthcare Social Network Analysis - 2 credit hours
Introduction to Biomedical Data Science - 3 credit hours
Program Educational Objectives
Online MSHI Program Student Learning Outcomes
Upon completion of the Master of Science in Health Informatics (MSHI) program, students will have the proven knowledge, skills, and attitudes to:
Knowledge
Demonstrate a broad knowledge of health informatics (including, healthcare practices, health information technology systems, and health data analytics) in scholarly discussions and collaborations with colleagues.
Demonstrate a broad understanding of core technologies needed for the support of health informatics used in clinical practice and research.
Demonstrate a deep knowledge of analytical methods to provide expert solutions to a focused range of problems encountered in clinical, pharmaceutical, and research projects.
Demonstrate a general knowledge and understanding of the clinical data science and management components needed to support clinical and research enterprises.
Skills
Use critical analysis to design, develop, test, and implement health informatics systems and solutions.
Use oral, written, and verbal skills to effectively communicate with a broad range of healthcare leaders and other stakeholders.
Apply quality assurance standards consistent with accepted health information technologies.
Demonstrate the ability to engage a team of peer experts in scholarly, interdisciplinary approach to healthcare and clinical research.
Demonstrate the ability to accurately record and manage data as appropriate for health informatics.
Integrate new and emerging health information technologies with existing methods.
Demonstrate ethical principles and handling of patient health information and other medical records.
Attitudes
Demonstrate a commitment to the importance of social and behavioral aspects of health and their contribution to the health of individuals and populations.
Demonstrate a commitment to integrate new and emerging technologies with existing methods to promote health equity.
Semester I Term I (8 weeks)
Introduction to Value Based Care & US Health Care Systems (3 credit hours) - Core
This course is an introduction to the economics, public health policies, health equity, and social determinants which shape health care delivery in the U.S. In addition, this course will provide an introductory platform to one of the most important topics in health care transformation today – value-based health care. The course will explore public policy, financial stability, legal and regulatory frameworks, administration, health literacy, and public health; value-based approaches to organizing health care delivery, improving health outcomes of patients, and controlling runaway health care costs will also be discussed.
Introduction to Health Informatics (3 credit hours) - Core
This course will give an overview of health informatics focused on electronic health record systems, healthcare infrastructure, and health information technologies. Additionally, topics including clinical decision support, big data and predictive analytics, patient care and quality, virtual health, telehealth, and other technological advances in healthcare. An emphasis on the factors that helped create and sustain this field, the key players involved, and the impact health information technology is having on the delivery of care will be covered, along with emerging and new uses of health information technology.
Semester I Term II (8 weeks)
Clinical Operations, Thinking & Communication (3 credit hours) - Core
This course provides students theory and application to healthcare management who have no prior clinical training in healthcare operations, clinical decision-making, basic medical operations terminology, and required communication skills. The students will examine the information technology needs for clinical operations, hospital organization management, patient access services, ambulatory care, clinical practice, and organization, nursing services, managing facilities and resources, personnel, staffing, and finance.
Health Information Technology (HIT) Standards & Interoperability (2 credit hours) - Core
This course will present concepts and practical examples of health care information interoperability, terminologies, messaging standards, and health information exchanges. Topics covered by the course include health information exchange/transmission standards, clinical data architecture, Application Programming Interfaces (APIs) and Extract-Load-Transform (ELT) tools, and health information exchanges. Together these methodologies ensure healthcare delivery and payment.
Semester II Term I (8 weeks)
Clinical Decision Support Systems (3 credit hours) - Core
This course provides a comprehensive overview of computerized decision support systems (CDSS) along with key concepts of clinical decision analysis and decision-making when human cognition may be uncertain. Topics include structuring clinical problems, developing decision options, incorporating Social Determinants of Health (SDOH) data, quantifying errors, uncertainty, and bias, and combining these observations to arrive at better clinical decisions using intelligent systems. This course will also discuss types and structures of CDSS, implementation and future direction, and introduce approaches to mine, visualize, model, and analyze clinical data.
Legal, Ethical & Social Issues and Risk Management (2 credit hours) - Core
This course covers legal, ethical, social, and risk management issues in healthcare and how health information technology is used to address them. Topics include such things as protection of patient information, intellectual property, computer and software law, professional ethics and responsibilities, and regulatory issues that impact the management of electronic health information. Importantly, this course will equip students with the knowledge and analytic tools to identify and correct key issues related to privacy & security, fraud & abuse, confidentiality, antitrust law, intellectual property, The Joint Commission accreditation process, and health equity.
Semester II Term II (8 weeks)
Information System Acquisition & Lifecycle (3 credit hours) - Core
This course will expose learners to the best practices used to evaluate and acquire new health information technologies to meet the requirements of healthcare users (provider, clinic, and/or health system). Topics include information system specifications, request for proposal/quote, total cost of ownership (TCO), contract agreements, and health information trend analysis.
Project Management Basics (2 credit hours) - Core
This course will provide a detailed overview of Project Management techniques and methods applied to the commercial sector using the accepted principles of the Project Management Institute (PMI). General knowledge from the field of Project Management will be conveyed from the perspective of engineering or science personnel in the industrial field.
Semester III Term I (8 weeks)
Clinical Data Mining and Analytics Using AI and ML Tools (2 credit hours) - Core
This course provides a comprehensive overview of clinical data mining & analytics, their limitations and practical application of AI and ML tools that inform and improve clinical care. Students will be taught the skills to develop and/or use Python and SQL tools to analyze health data, while appreciating the complexities of structured and unstructured clinical data, and electronic health records. The application of ML approaches to extracting information from structured clinical data and unstructured clinical text will be explored. In addition, this course will gain hands-on experience with a real-world clinical data, ML and collective AI tools used to identify problems and support clinical decision without bias.
Elective #1 – See below
Semester III Term II (8 weeks)
Consumer Digital Health (3 credit hours) - Core
The course will explore the possibilities and potential of an informed consumer. The session will examine the shared responsibilities of the consumer and their influence on the market. The discussions and subject matter will highlight the decisions people make about the healthcare products and services they purchase and use; along with the data generated. It is impossible to discuss consumer health without examining health informatics and the best practices for empower patient decisions. We will explore health education, health information literacy, various types of patient-facing technologies, the application jargon-free language, mobile health best practices and other strategies all designed to support all users, with a special emphasis on vulnerable populations.
Elective #2 – See below
Semester IV Term I (8 weeks)
Big Data Management & Analytics (2 credit hours) - Core
This course introduces the concepts of centralized & distributed networks and relational & not-only-relational or structural (e.g., MySQL and NoSQL) clinical database systems. Students will become aware of open source and commercial database solutions. The course will provide information on how to manage large-distributed database systems and data warehousing as well as the enterprise tools used to model and analyze large-scale databases.
Health Science Capstone Practicum (4 credit hours) - Core
This course is for aspiring health science practitioners that want to understand how to develop and apply a product or process solution to a real-world problem and bring it to practice. This course provides student teams with hands-on learning experience with customer discovery, business model development, and an understanding of the revenue streams, market channels, customer & business partner relationships, and estimating costs & resources needed to successfully bring products and processes to the market.
List of Elective Courses (2 electives required for degree)
Leadership in Healthcare (2 credit hours) - Elective
This course will help students develop problem-solving skills, learn basic leadership skills, conflict resolution strategies, and understand their own tendencies as leaders and team members, using real-world examples.
Digital Therapeutics & App Development (2 credit hours) – Elective
Evidence-based therapeutic interventions, driven by applications or FDA-approved software programs (i.e., digital therapeutics), can be used to prevent, manage, or treat disease. The methods used to create applications as physical and/or behavioral therapy for patients will be explored. This will include real-world examples of digital therapeutics and other applications for dementia, diabetes, hypertension, and behavioral health patient care and monitoring outcomes. Digital health categories recognized by the Food and Drug Administration (FDA), such as health information technology (HIT), telehealth / telemedicine, and personalized medicine, will also be explored, particularly as it relates to efficacy and desired outcomes of cost reduction, expanded access to medical care (through wireless interventions), and enhanced person-center care. The vast adoption and rapid evolution of healthcare technologies and augmented data use will be introduced to survey the issue of prescribing software as medical care. Aspects of digital health in cultural contexts and health care innovation for stakeholders will be presented for comparison.
Public Health & Healthcare Social Network Analysis (2 credit hours) – Elective
This course teaches how to analyze and visualize social network data from sources like Twitter, Facebook, LinkedIn, WebMD, etc. Students will learn how to examine relationships, trends, and touchpoints among networks to reveal public health and healthcare information and data from the public, patients, and healthcare staff. Together, these methodologies can predict, diagnose, and evaluate public health and health systems efficiencies.
Introduction to Biomedical Data Science (3 credit hours) – Elective
This course provides a comprehensive overview of the key concepts in biomedical data science and the application of common data science techniques used in biotechnology, bioinformatics, and health informatics. Topics to be covered include: basics of data science and application in biotechnology, identifying the computer languages used in data science (R, Python, SQL, Java, JSON, C++, and HTML), database management and cloud computing, SQL and query of open-source datasets, data visualization with Python, introduction to data science tool kits, introduction to AI and machine learning, data mining, and building your data science portfolio with GitHub.