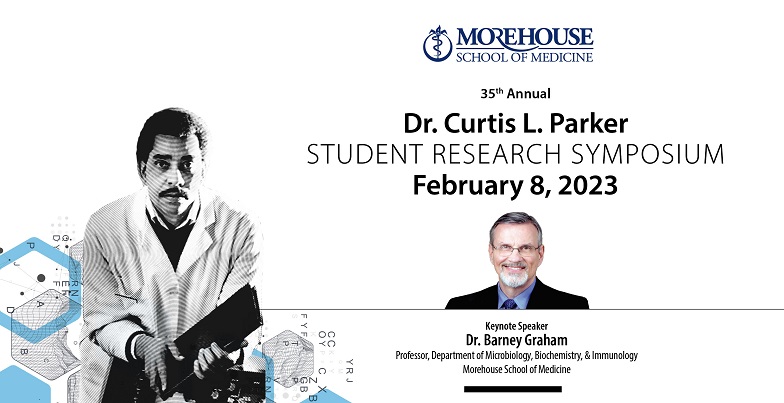 Dr. Curtis L. Parker Student Research Symposium
The Morehouse School of Medicine (MSM) Curtis L. Parker Student Research Symposium is an annual event showcasing research led by MSM residents, medical and graduate students, undergraduate students in the Atlanta University Center, as well as colleges and universities across the state of Georgia. Each year, a keynote address is presented by world-renowned researchers and other leaders in science.
The 35th annual Curtis L. Parker Symposium will be held on February 8, 2023 and this year's keynote speaker will be Dr. Barney Graham. Dr. Graham is a Professor in the Departments of Medicine and Microbiology, Biochemistry, and Immunology (MBI) and serves as Senior Advisor for Global Health Equity in the Office of the President and CEO.
After over 20 years as an investigator at the National Institute of Allergy and Infectious Diseases (NIAID), part of the National Institutes of Health (NIH), Dr. Graham retired in September 2021 as deputy director of the Vaccine Research Center and chief of the Viral Pathogenesis Laboratory. He was recently elected into the National Academy of Sciences. Dr. Graham received the NAS 2022 John J. Carty Award for the Advancement of Science, which acknowledged his "groundbreaking work on vaccine and monoclonal antibody development for COVID-19, respiratory syncytial virus, influenza, HIV, and other emerging viruses."
Symposium Highlights