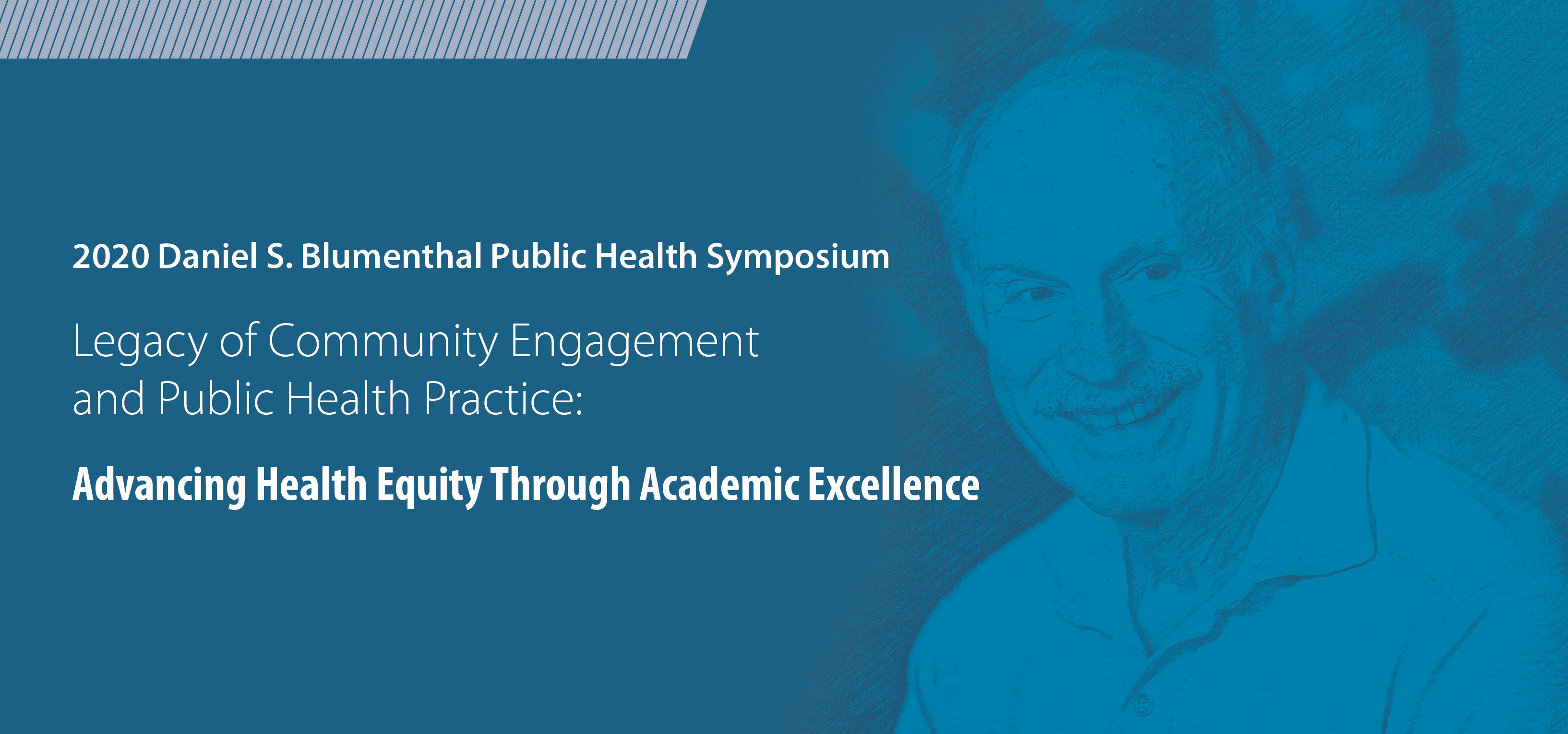 The 2020 Dr. Daniel S. Blumenthal Annual Health Symposium
Legacy of Community Engagement and Public Health Practice: Advancing Health Equity Through Academic Excellence
April 8, 2020
Call for Abstracts for Poster Presentations
About The 2020 Symposium
The 2020 Symposium will focus on the importance of community engagement in the pursuit of health equity through academic excellence. The Centers for Disease Control and Prevention (CDC) defines community engagement as "…the process of working collaboratively with groups of people who are affiliated by geographic proximity, special interests or similar situations with respect to issues affecting their well-being." Research has always been clear about the value of health in building communities that are free of conditions that adversely impact individual and community well-being. Health equity should not be bound by geography, social standing or race/ethnic background, and underscores the need to continue to implement and evaluate effective programs and policies to ensure equitable solutions to the presence of social determinants of health in all communities. Community engagement to achieve health equity is an important strategy in identifying programs and resources which strengthen capacity to promote healthy living. This year's symposium is intended to inform participants of the importance of engaging the community through educational programs, community-based interventions, research and public health practice, and services that achieve health equity.
Abstract Themes
All evidence-based research, best practices, policies, and evaluation methodology that highlight how community engagement, public health practice and research can contribute to the achievement of health equity are welcomed.
Topics should focus on but not be limited to the advancement of health equity through:
community engagement approaches for improving health and healthcare
community strategies for reducing risk factors and eliminating disease
research identifying trends and data that demonstrate the variety and nuance of experiences among marginalized and understudied groups
policy approaches at the local, state, and national levels
healthy living strategies for individuals, families and communities across the life course
the education of health professionals on the concept of health equity through community engagement
Who Should Submit?
All Voices are Welcome. We encourage submissions from students, professionals, academicians, and community members who have original work in the field of community engagement for improving health. We will highlight both traditional research and non-research practice and processes. Those eligible include but are not limited:
Faculty
Undergraduate, Graduate and Medical Students
Allied health professionals
Clinicians
Community-based organizations
Educators
Public health practitioners
Social Workers and Community Health Workers
Local/state/federal government representatives and policy-makers
If you have a non-research abstracts (e.g., practice, policy, partnership development, case studies, processes, etc.) we welcome your submission especially if you are involved with community engagement, community organizing, and processes that connect social justice to health.
Required Documents
Please submit the following two-page document:
Title Page and Author Information: Please include all authors names, affiliations and degrees or degree candidacy.
Second Page: An abstract up to 250 words. All abstract submissions should be sent to the following email address: msmpublichealthday@msm.edu. Email SUBJECT LINE: [Presenter Last Name_ABSTRACT] e.g., SMITH_ABSTRACT. Abstracts submitted after the deadline may not be considered.
Abstract Preparation and Submission
All abstracts should be limited to 250 words in length (not including titles or sub-headings).
Title page submission information must include all author names, degrees, and organizational affiliations. Research abstracts should include: Objective; Background; Methods; Results; Conclusion. Practice/Process abstracts should include: Goals and Purpose, Activities, Outcomes, Relevance. Authors whose abstract is accepted for presentation will receive notification along with information on set-up day and time, presentation days, and location of presentation boards by March 30th, 2020.
All authors invited to present during the poster session will be required to register for the symposium. Please access the free registration here.
IMPORTANT DATES!!
Deadline to submit

March 25th, 2020,

midnight

Final notification of abstract disposition

March 30

th

2020

Deadline for presenter to withdraw or cancel

April 1

st

2020, 5:00pm

Poster presentation

April 8

th

2020