campus portal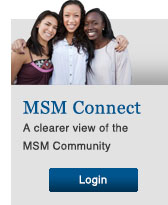 Current Fellows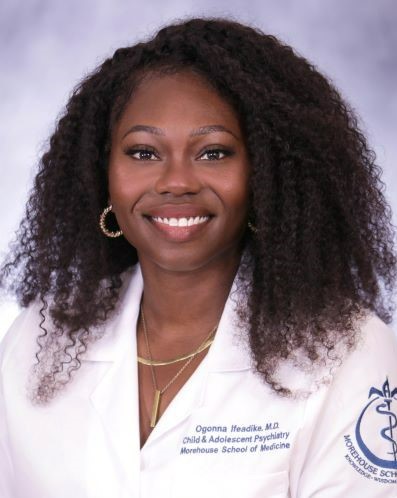 Ogonnaya Ifeadike, MD
Child & Adolescent Psychiatry Fellow
Dr. Ogonnaya Ifeadike is a first-generation Nigerian-American born and raised in Atlanta, Georgia. She completed her medical school education at Morehouse School of Medicins, where she learned to care for the underserved population and explored the importance of culture within medicine, which ultimately led her to psychiatry. She attended Meharry Medical College for her General Psychiatry Residency, where she was elected and served as their House Staff Association President. Dr. Ifeadike has also worked towards decreasing health disparities in the black and brown communities by becoming a Behavioral Health Ambassador for HBCU Cares Initiative. She has been accepted into Morehouse School of Medicine's Child and Adolescent fellowship in the fall, with the aim of working with adolescents within the Juvenile Justice System in the future.
In her free time, she enjoys cooking, watching tv/movies, hiking with her dog, Merlin, and creating art or going on adventures with her daughter.
Contact: oifeadike@msm.edu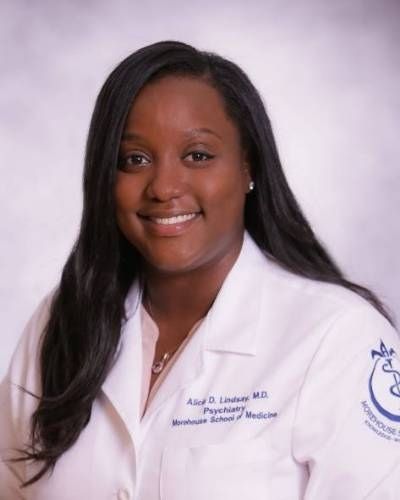 Alicia Lindsay, MD
Child & Adolescent Psychiatry Fellow
Dr. Lindsay was born in Jamaica but has lived in Atlanta for most of her life. She attended the University of Georgia where she graduated Magna Cum Laude with a Bachelor of Science in Biology and a minor in Spanish. Her passion for serving those in need, led her to attend Morehouse School of Medicine where she obtained her Doctor of Medicine degree and also completed her General Psychiatry residency training. Her interest in Psychiatry includes child and adolescent health, women's health, and global health.
She has been selected as a 2021-2023 Child and Adolescent Fellow by the American Psychiatric Association.
In her spare time, she enjoys catching up on reality tv, cooking, traveling, and spending time with her husband and family.
Contact: ALindsay@msm.edu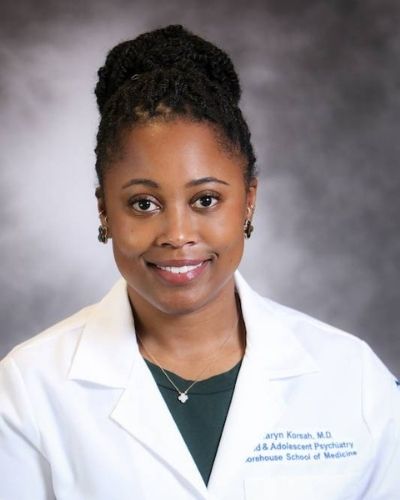 Karen Korsah, MD
Child & Adolescent Psychiatry Fellow
Dr. Karyn Korsah is an incoming child and adolescent psychiatry fellow at Morehouse School of Medicine. She has completed her general psychiatry residency at Emory University School of Medicine in Atlanta, GA. During that time, she was selected as a member of the Global Health Tracks & Health Equity, Advocacy, and Policy Tracks. She also received her Bachelor of Science (BS) degree from Emory University, where she received honors in her major of Anthropology and Human Biology. In between college and medical school, she completed a year of PTSD and dementia research at UT Houston, her hometown.
She received her Doctor of Medicine degree at University of Texas Medical Branch at Galveston, TX, where she completed Bilingual Health and Global Health tracks, both requiring Spanish clinical experiences abroad and proficiency in medical Spanish terminology. Dr. Korsah is truly dedicated toward treating an array of patients from various backgrounds with cultural humility. She is a member of the American Academy of Child and Adolescent Psychiatry (AACAP) and the American Psychological Association (APA). She was selected as an APA Diversity Leadership Fellow, where she will be well equipped to provide culturally competent mental health care to diverse minority groups and at-risk populations.
When not expanding her proficiency in Spanish, Dr. Korsah likes to travel, learn new recipes, and stay active by hiking and doing HIIT workouts.
Contact: kkorsah@msm.edu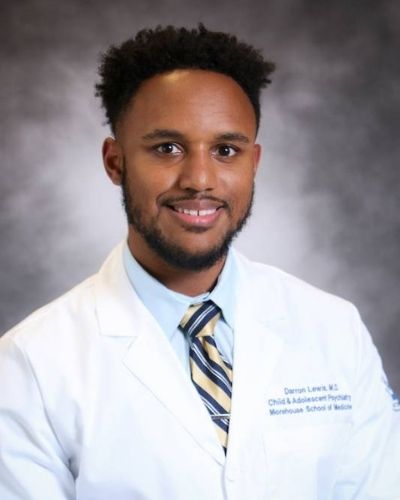 Darron Lewis, MD
Child & Adolescent Psychiatry Fellow
Dr. Darron Lewis is a Child and Adolescent Psychiatry Fellow at Morehouse School of Medicine. He completed his medical education at The University of Medicine and Health Sciences and completed his General Psychiatry Residency at Coliseum Medical Centers in Macon, Georgia where he was Chief of Education. He is assistant faculty at Trinity School of Medicine where he commonly gives lectures on child development and proper hospital behavior. He is the Morehouse representative for the Georgia Chapter of the American Academy of Child and Adolescent Psychiatry. He has volunteered with Daybreak homeless shelter and fundraises yearly for their annual sleepout.
In his spare time, he likes to take his dog to the park, find new coffee shops, exercise, play video games and lay out on beautiful Caribbean beaches. .
Contact: drlewis@msm.edu
2022 Alumni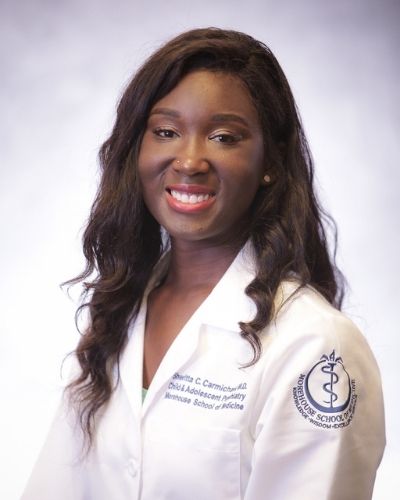 Sheritta Carmichael, MD
Child & Adolescent Psychiatry Fellow
Dr. Carmichael is originally from Pennsylvania, she moved to Georgia at a young age and has called this home ever since! After graduating high school, she went on to receive her Bachelor of Science in Psychology with a minor in biology at the University of Georgia. Dr. Carmichael went on to attend medical school at Mercer University School of Medicine in Savannah, Ga. She moved to Asheville, NC where she completed the first three years of her psychiatry residency. Dr. Carmichael decided to pursue her passion of providing mental health to children and adolescences, so she decided to do a fast-track program for fellowship.
When she is not working, Dr. Carmichael enjoys playing with her dog, spending time with her sister and friends, baking, and hiking.
Contact: scarmichael@msm.edu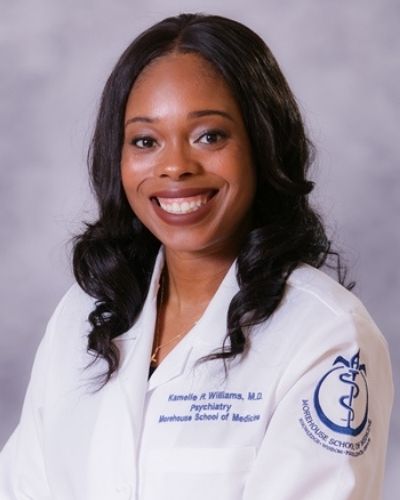 Kamille Williams, MD
Child & Adolescent Psychiatry Fellow
"Dr. Williams is a metro Atlanta native. She received her Bachelor of Science in Chemistry at Spelman College before pursuing her medical degree at Meharry Medical College in Nashville, TN. She completed her General Psychiatry Residency training at Morehouse School of Medicine before fast-tracking into the MSM CAP fellowship where she is one of the program's inaugural fellows.

Dr. Williams has been a part of several national organizations and committees including being an APA Child Psychiatry Fellow and fellow member of the APA Ethics Committee.
In her spare time, Dr. Williams enjoys doing various activities with her friends and family."
Contact: kwilliams@msm.edu