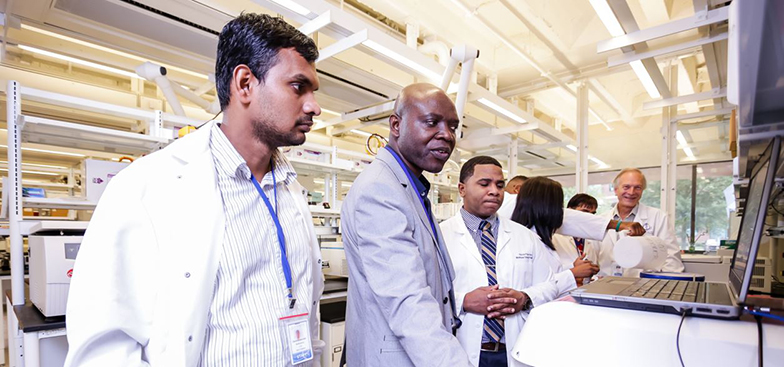 The MSM Impact
Morehouse School of Medicine (MSM) recently celebrated forty years of educating leaders in public health, biomedical sciences, and health care.

We celebrate students-turned-graduates, faculty, and staff who go on to become community leaders, policy makers, and renowned resources for health equity. We celebrate our commitment to eliminating health disparities, serving the underserved, and addressing the underrepresentation of minority physicians and scientists in the field of medicine. We celebrate a track record that led to our ranking as the No. 1 medical school in the nation in fulfilling its social mission.

Additionally, our research enterprise continues to flourish as we increase the number of scientific discoveries that
directly touch the lives of communities. Our accomplishments in clinical care continue to grow at Grady Hospital and Morehouse Healthcare, which was recently ranked the #6 physician group practice in Atlanta. We also welcomed a record class of 159 new students.

We celebrate an institution that values innovation and integrity. A place of energy. A place of knowledge. A place of
service. An institution that is unapologetically and purposefully here for the greater good.



Effectiveness.

Our education and training model is
well-established.

pass rates on Step 1 of the USMLE for 2013
and 2014 M.D. classes, respectively.


True Impact.

MSM graduates go on to become
community leaders, policy makers,
and renowned resources for knowledge
and health equity.




of entering M.D. students successfully
complete the program - less than 2%
attrition. (2009-2014 data)


Social Mission.

MSM has been recognized as the #1 U.S.
medical school for our social mission.
(Annals of Medicine, 2010)

total number of scholarships awarded
in 2014-2015.


Giving to MSM