The Instrumental and Immortal Life of Henrietta Lacks
Explorers and adventure-seekers have roamed the globe, often to their peril, in search of elixirs and fountains of youth, promising immortality to all who drink from them. Countless swashbuckling stories of adventure and heroism have been written and produced for the Silver Screen chronicling these men and women and their journeys to the remote, dangerous and mostly imaginary locations around the world. The irony is that immortality does in fact exist and it was discovered in the least likely of places—the cells of an African-American woman named Henrietta Lacks who lived in the early part of the 20th Century.
Who Was Henrietta Lacks?
Henrietta Lacks died of cervical cancer in 1951 at the untimely age of 31. Surgeons at Johns Hopkins harvested cells from her tumor without her permission or the knowledge of her family. These cells became the basis for the first immortal human cell line, HeLa (Henrietta Lacks). Variations of HeLa cells are used in research all over the world, resulting in more than 80,000 scientific publications, break-through research in cancer and health benefits and enormous economic returns to Biotechnology and Pharmaceutical Industries. Henrietta Lacks' immortal cells would change the face of medicine forever. However recognition of her involuntary donation to science would remain secret until the 1970s.
Dr. Roland Pattillo: Champion of HeLa & Henrietta Lacks
Dr. Roland Athony Pattillo was the only African American at Johns Hopkins University to study under Dr. George Gey, the researcher who was able to grow Lacks' cells from a biopsy when she was being treated for cervical cancer. Dr. Pattillo's interest in and compassion for the Lacks family led him to become well acquainted with them. He purchased a headstone for Henrietta's previously unmarked grave and emerged as a champion for and gatekeeper to access to the Lacks family. In fact it took several phone conversations between he and author, Rebecca Skloot, for him to facilitate the introduction that led to her interviewing the Lacks family. This experience would ultimately birth her bestselling book, The Immortal Life of Henrietta Lacks written in 2010.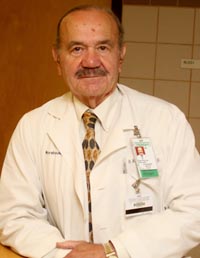 Dr. Roland Anthony Pattillo, Professor Emeritus Department of Obstetrics and Gynecology, Morehouse School of Medicine.
After Dr. Pattillo's tenure at John Hopkins University and the Medical College of Wisconsin, he eventually transitioned his laboratory and his passion for the HeLa cell scientific potential to Morehouse School of Medicine (MSM), bringing along his enduring close relationship with the Lacks Family. Dr. Pattillo, a certified Obstetrician and Gynecologist and Gynecologic Oncologist served as the interim Chair of the Department of Obstetrics and Gynecology of MSM from 1996 to 1998. The Obstetrics and Gynecology residency program was established during this same period. In 2003, he was awarded the Medallion of the International Trophoblast Society for his stem cell research. His research was inspired by his early exposure to HeLa cells and he eventually developed his own cell lines, BeWo, the first human trophoblastic endocrine cell type to be maintained in continuous culture, and CaSki and DoT, of cervical origin.
In 1996, Dr. Pattillo began hosting a Women's Health Conference at Morehouse School of Medicine, in honor of Henrietta Lacks and often invited members of the Lacks family to Atlanta to speak at this venue. The HeLa Women's Health Conference recently celebrated its 20th year in September 2016. Dr. Pattillo remains intrinsic to the fabric of Morehouse School of Medicine as Emeritus Physician Scientist and Professor of Obstetrics and Gynecology.
The Immortal Life of Henrietta Lacks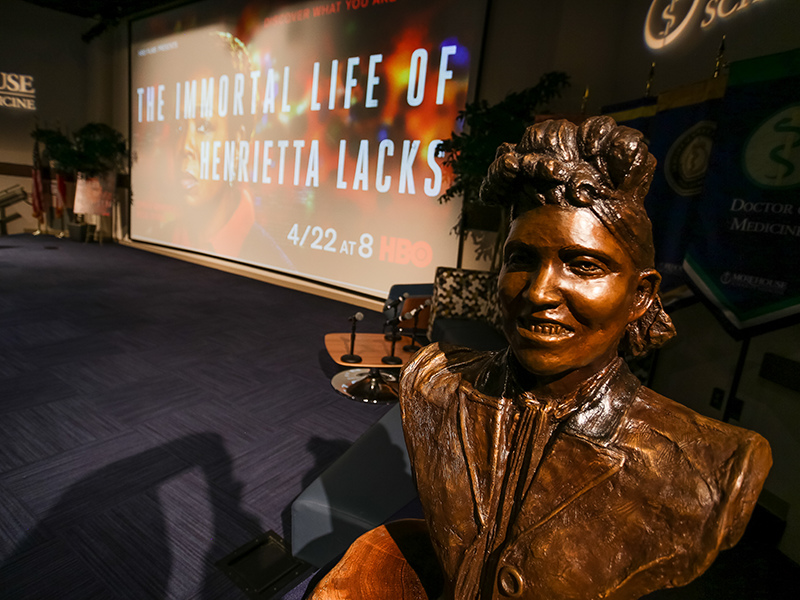 Bronze Statue of Henrietta Lacks located in the National Center for Primary Care at Morehouse School of Medicine.
On Saturday, April 22, at 8PM EST, HBO will debut The Immortal Life of Henrietta Lacks, based on the bestseller by Rebecca Skloot. The movie chronicles the conflict of the politics, ethics, racism and research surrounding the death of Henrietta Lacks and the Lacks' family struggle to correct the injustice surrounding the use of her cells. Rebecca Skloot is a co-executive producer of the film with executive producers Oprah Winfrey, Carla Gardini, Alan Ball, Peter Macdissi and Lydia Dean Pilcher. George C. Wolfe is Writer-Director of this Harpo Films drama in association with Your Face Goes Here Entertainment and Cine Mosaic production.
The film is told through the eyes of her daughter, Deborah, played by Oprah Winfrey. Ruben Santiago-Hudson plays Dr. Roland Anthony Pattillo. Rose Byrne plays author, Rebecca Skloot.
Dr. Winston Thompson, MSM Chair of Physiology and Director of OBGYN Research served as medical consultant on the film. He ensured the accuracy of the reenactments shot on location at Morehouse School of Medicine and the medical integrity of the story being shown on April 22nd. Dr. Patillo himself was also made himself available to review the film's art and props for accuracy.
For more see the photo gallery below:
The Impact and Implications of HeLa
Variations of HeLa cells are used in research all over the world, resulting in more than 80,000 scientific publications, break-through research in cancer and health benefits and enormous economic returns to Biotechnology and Pharmaceutical Industries. Yet, scientists and the public only became aware of Henrietta Lacks's contribution to science when Skloot's book was published in 2010.
In the same year, Johns Hopkins released the following statement concerning the cervical samples that were taken from Lacks without her consent:
Johns Hopkins Medicine sincerely acknowledges the contribution to advances in biomedical research made possible by Henrietta Lacks and HeLa cells. It's important to note that at the time the cells were taken from Mrs. Lacks' tissue, the practice of obtaining informed consent from cell or tissue donors was essentially unknown among academic medical centers. Sixty years ago, there was no established practice of seeking permission to take tissue for scientific research purposes. The laboratory that received Mrs. Lacks's cells had arranged many years earlier to obtain such cells from any patient diagnosed with cervical cancer as a way to learn more about a serious disease that took the lives of so many. Johns Hopkins never patented HeLa cells, nor did it sell them commercially or benefit in a direct financial way. Today, Johns Hopkins and other research-based medical centers consistently obtain consent from those asked to donate tissue or cells for scientific research.
Poignantly, HeLa cells additionally played an essential role in the development of the polio vaccine, at a time when racial inequities were prominent. US President Franklin D. Roosevelt, himself a polio-survivor, established the Georgia Warm Springs Foundation in 1927 for children to recuperate from the disease. Yet, segregationists prevented African Americans children from benefitting, even when Americans of all races were donating to the March of Dimes foundation to fight polio. HeLa cells proved ideal for growing the poliovirus, and huge quantities were required for vaccine production. Contracts were granted to the Tuskegee Institute, associated with the historically black Tuskegee University in Alabama. Tuskegee scientists, all of whom were African Americans, grew mass quantities of HeLa cells to produce sufficient poliovirus to vaccinate all Americans regardless of the color of their skin.
At Morehouse School of Medicine our vision is to Lead the Creation and Advancement of Health Equity – a vision spearheaded by our President and Dean Dr. Valerie Montgomery Rice, which is undergirded by the long-standing mission of our institution. As the nation's leading academic medical center for vulnerable populations, we are ultimately defined by our ability to create and advance health equity. The story of Henrietta Lacks is quite timely and important to our vision as we continue to train students and residents, pursue scientific discovery, treat patients and engage our communities.

Written by Dr. Winston E. Thompson and Dr. Roland A. Pattillo
Contributing writers: Mrs. Gina Towns Thompson, Director of Events; Dr. Minerva Garcia-Barrio, Assistant Professor Department of Physiology, Ms. Pamela Simmons, Vice President of Marketing and Communications; and Eric Payne, Director of Marketing and Communications