Demystifying BRCA1 in African-American Women to Save Lives
By Jennifer Jiles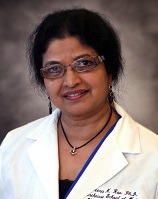 Morehouse School of Medicine (MSM) physicians, faculty and students are engaged in an intense and mission-driven quest to solve answers to some of the world's most pressing cancer-related questions.
One specific group of African Americans is driving MSM professor and co-director of the Cancer Biology Program in the OB/GYN department Veena Rao, Ph.D., who has spent the better part of her scientific career trying to understand the BRCA1 gene and its mutations in order to facilitate early detection and achieve novel treatment breakthroughs for women with breast cancer. Research she and her team are conducting has the potential to not only change lives, but save lives.
Breast cancer is the second-most common cause of cancer-related death, after lung cancer among African-American women. For these women, particularly those in underserved communities, the disease is exacerbated by factors such as fewer screenings, unsalutary living environments, and decreased access to healthcare, all of which lead to a strenuous battle between life and death.
African Americans are more likely to experience health care inequities, ill health, develop complications, and die from cancer than any other racial or ethnic group in the United States. Two important factors that could also contribute to a higher mortality rate in African-American women are a high prevalence of BRCA1 mutations and lack of targeted therapy to address them.
CA1 Variants and Triple Neative Breast ancer
BRCA1 Variants and Triple Negative Breast Cancer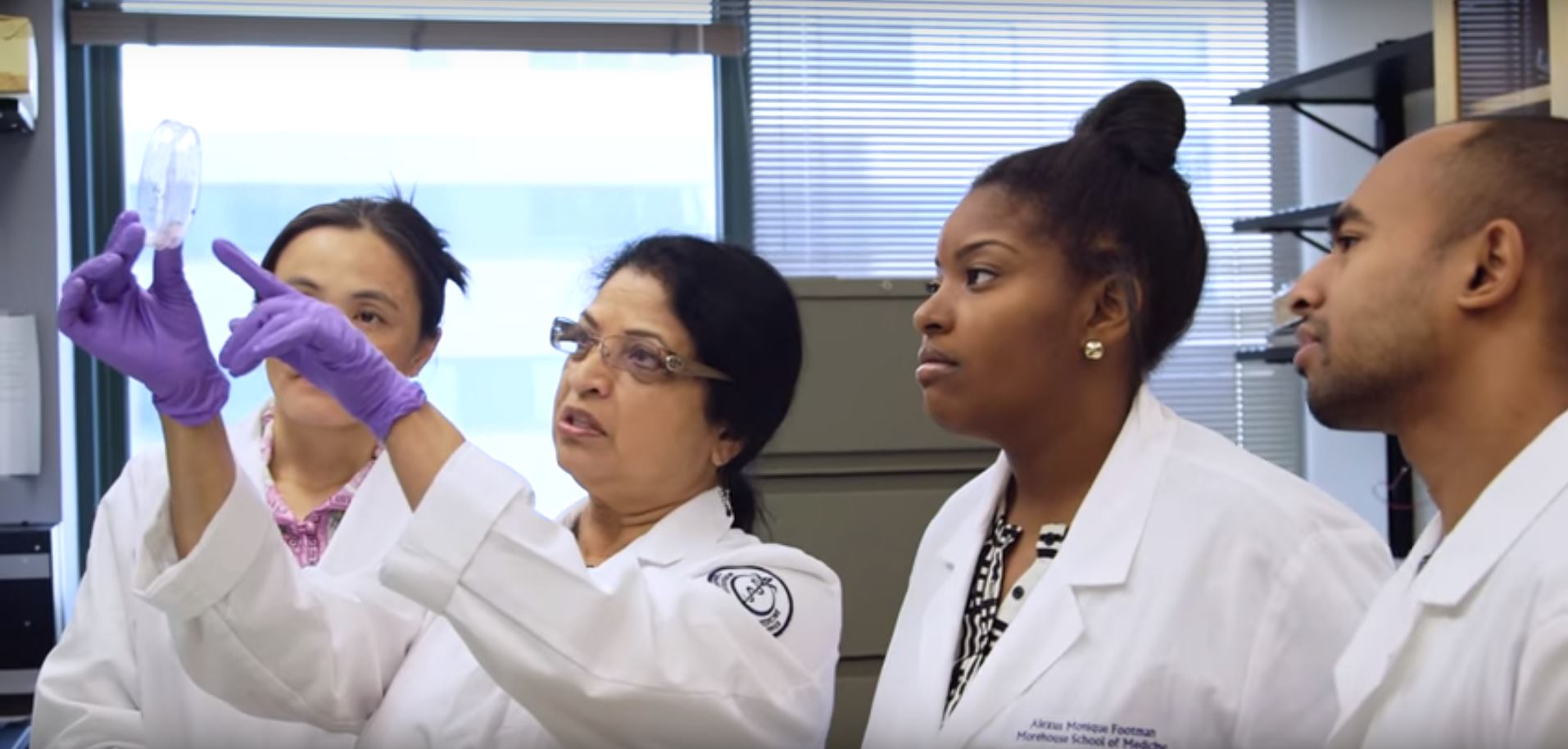 BRCA1 belongs to a class of genes known as tumor suppressor genes and the primary function is to repair cell damage, maintain normal cell growth, and ward off cancer. When the BRCA1 gene mutates and becomes defective due to genetic or other reasons, cells are more likely to divide rapidly, which can lead to cancer. These mutations also raise a woman's risk for triple negative breast cancer (TNBC) or ovarian cancer. Due to reasons still not completely understood, young African-American women are more likely to develop aggressive TNBC and die from the disease.
In patients with TNBC, their tumor cells do not express the estrogen receptor, progesterone receptor, and epidermal growth factor receptor-2 (also known as Her-2). Since successful breast cancer treatments tend to target these three receptors, lack of these receptors can severely limit the treatment options for these women. Even if some of these women respond to some treatment, the disease is very likely to reappear. There are currently no treatments that specifically target TNBC, and Dr. Rao is on a mission to change that.

Mystery of Why? How? BRCA1 Mutation Results in TNBC Development Solved
Dr. Rao, whose laboratory is housed at the Cancer Biology Program at the Georgia Cancer Center for Excellence at Grady Memorial Hospital, has been leading a team of diligent scientists in investigating the inner workings of the BRCA1 gene for the past 22 years. Rao's team was the first to discover the different forms of BRCA1 and show they can induce cell death in breast cancer cells. Her team was also first in introducing BRCA1a (a variant of BRCA1) into TNBC cells and ovarian cancer cells by gene therapy, successfully blocking tumor development in mice.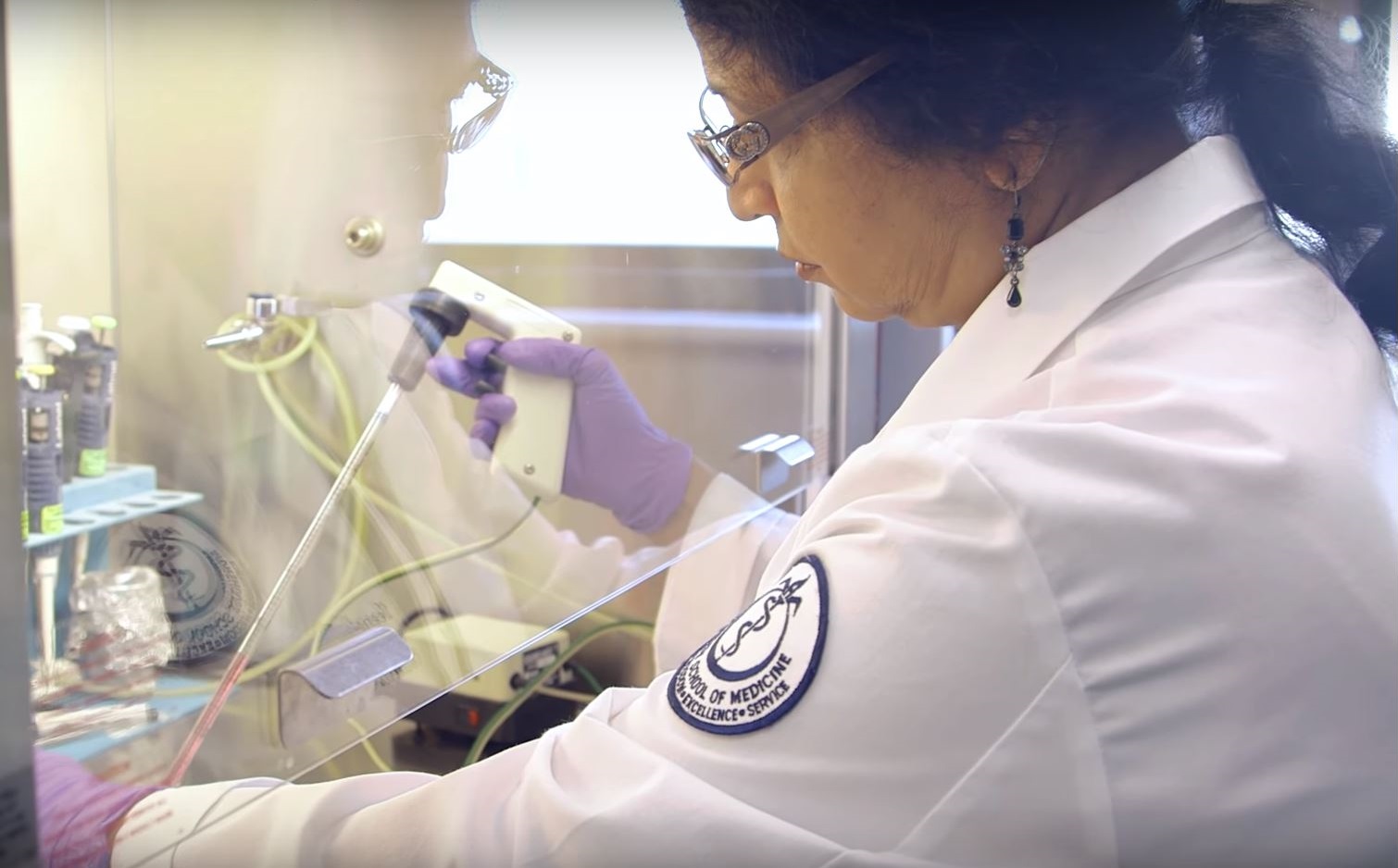 Dr. Rao's group was the first in the world to demonstrate the mechanistic pathways of how mutations in this gene can turn off estrogen (ER) leading to TNBC. Her group also discovered an unknown property of BRCA1, a property lost in the mutated or defective gene. They showed that BRCA1 interacts with another entity, a protein called Ubc9, which is essential for the gene's tumor suppressor activity. In 2013, Morehouse School of Medicine was issued the only patent in the world for this discovery. The tests covered by this patent predict very early on the risk for the development of TNBC, which can facilitate development of novel targeted personalized therapies for this devastating disease in individuals with BRCA1 mutations.
"If the cancer can be detected early, we can close the health disparity between African-American women and white women," said Dr. Rao.


BRCA1 and TNBC: Breakthroughs That Will Have Long Term Implications in Mechanism-Based Cancer Diagnostics and Therapeutics
Currently available cancer screening tests search for the BRCA1 gene mutations using blood and saliva DNA to assess the risk or probability of developing the disease. The results of this screening can be negative (no mutations), positive for pathogenic mutations (one or more), or uncertain VUS (variants of uncertain significance). As it turns out, most African-American women who get tested fall into the VUS category, which can be confusing to the clinicians as they cannot rightly interpret the results and counsel patients accordingly. This in turn generates uncertainty and anxiety for the patients.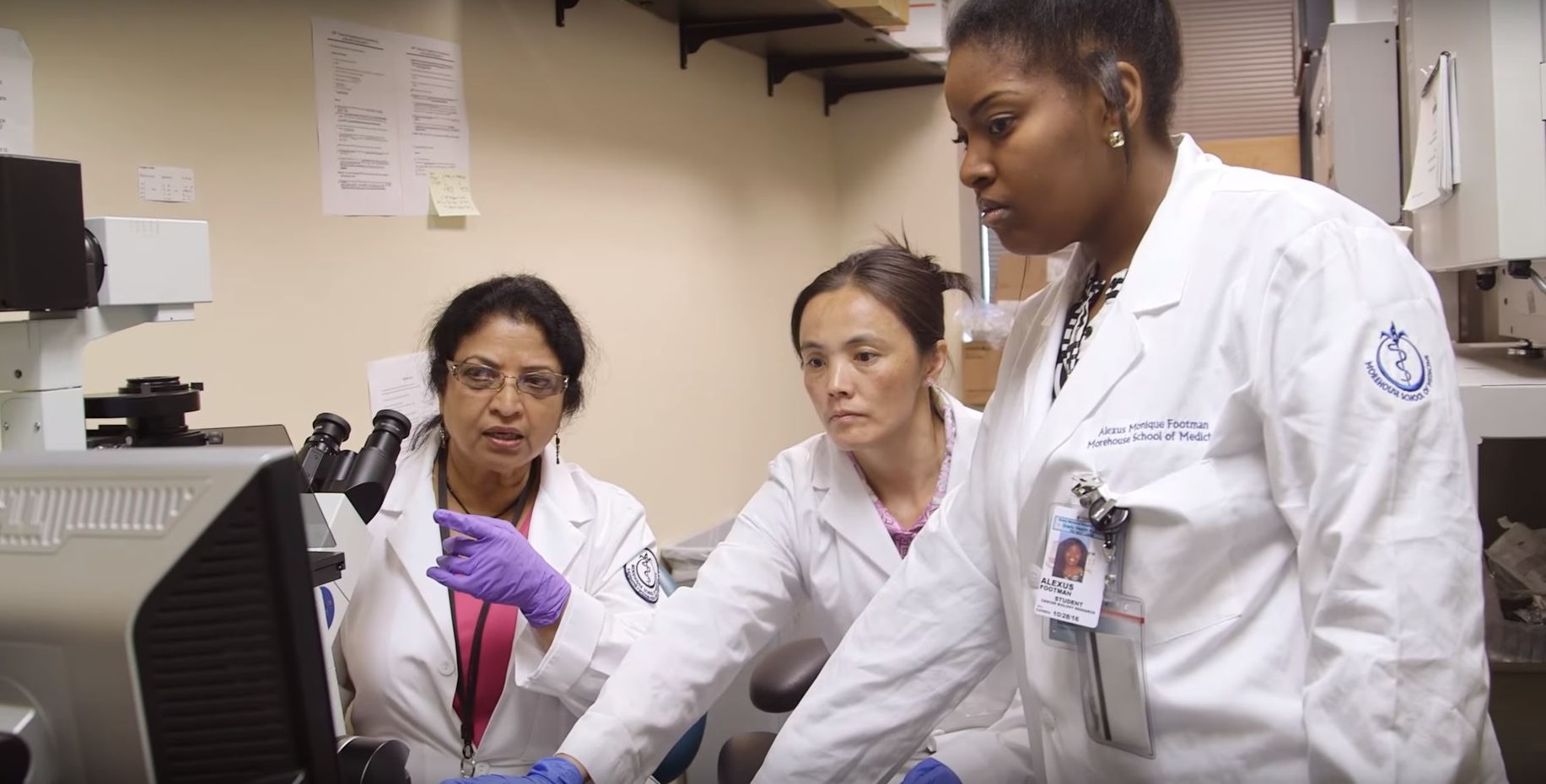 In contrast to the DNA-based testing, Dr. Rao's patented kit tests whether the product of the BRCA1 gene (BRCA1 protein) works as it should. Any abnormality in its function suggests that the odds of developing TNBC or ovarian cancer down the line are high. Thus, Rao's test can be a very useful complement to genetic testing. When the functional test results are combined with the DNA test results, one can identify which gene mutation (whether pathogenic or unspecified) is driving the higher risk for cancer.
"This technology, when fully developed and combined with BRCA1 genetic testing, will revolutionize early detection of hereditary TNBC and ovarian cancer, foster development of novel therapies, and prevent countless deaths due to these aggressive cancers," said Dr. Rao.
More recently, Dr. Rao's team has identified potential early biomarkers for cancer progression (including recurrence and metastases), which can lead to better prognosis for the patients. Once these biomarkers are fully identified, they can be targeted by new drugs, thus prolonging the survival of women with TNBC, creating health equity and saving lives.


The Focus: Health Equity
The work of Dr. Rao and her team is contributing to MSM's commitment to lead the creation and advancement of health equity.
Lack of access to screenings and diagnostic, therapeutic and preventative measures, especially as they relate to cancer, is a major gap to creating health equity in underserved communities. Ensuring people in those communities have access to measures that screen for cancers at the primary care level and specialty level is critical to decreasing mortality in African Americans.
In addition to these measures, a major element MSM's effort to close the access gap is its commitment to increasing the number of minorities in medicine, health professions, and the scientific workforce. Dr. Rao's intense passion for bringing diverse students into scientific careers is an integral part of her work in ensuring diverse health care professionals are part of research, particularly in areas related to breast cancer in African-Americans. She has been recognized with an award for her outstanding commitment to mentoring diverse scientists.
"The focus of my research is on training minorities in cancer health disparities research," she said. "This is to bridge the gap in cancer health disparities among minority women and white women. Closing the health gap is the mission of Morehouse School of Medicine."