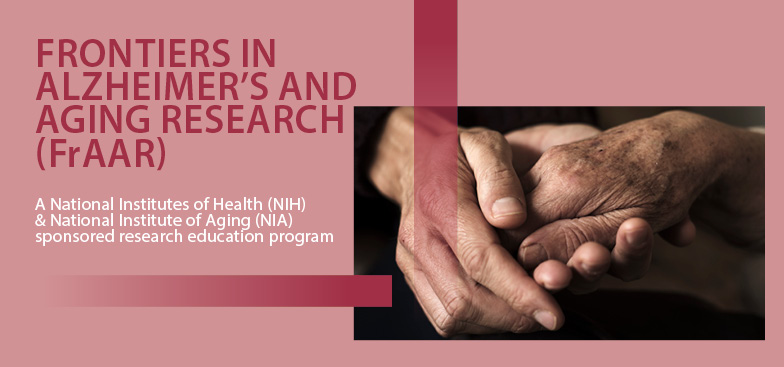 Frontiers in Alzheimer's and Aging Research (FrA2R)
Training the Next Generation of Biomedical Scientists to Address the Burden of Alzheimer's Disease
Alzheimer's disease and related dementias (ADRD) is currently ranked as the sixth leading cause of death in the U.S. In January 2019, estimates from the National Center for Primary Care at Morehouse School of Medicine (MSM) report the number of people with ADRD will double by 2060. The report estimated 13.9 million people or 3.3 percent of the population will have ADRD in 2060, impacting minorities hardest. However, there are few under-represented minority scientists working in this area of biomedical research. Furthermore, researchers have yet to figure out the complex genetic processes behind ADRD. These findings implicate a need to plan for the future burden now.
To address these gaps, the Morehouse School of Medicine hosted a hands-on training course entitled: Frontiers in Alzheimer's and Aging Research (FrA2R) from May 12-17, 2019. Funded by the National Institutes of Aging, the course is designed to sustain and enhance the aging-research workforce with this intensive laboratory and didactic for competitive trainees, especially from under-represented minorities (URMs).
"As we continue to lead in the creation and advancement of health equity at MSM, we are sensitive to the need for more research and improved approaches that apply a Tx TM approach— from the bench, to bedside, into communities, as well as through policy implementation to improve the health of populations," said Winston Thompson, Ph.D., Professor and Chair of the Department of Physiology and Training/Mentoring Coordinator of FrA2R. "FrA2R helps to advance the research careers of the most promising biomedical scientists and clinicians, ensuring diversity of the scientific and health care workforce addressing issues of Alzheimer's and related dementias."
FrA2R offers:
dynamic advanced training courses consisting of daily lectures and extended discussion on emerging concepts
laboratory research and technologically intense workshops and informal seminars over week-long periods
a focus on Alzheimer's root causes and mechanisms of aging
The sixteen highly competitive applicants that were selected to participate in the course are listed below.
Raimel Brooks, Xavier University of Louisiana
Mariah Calubag, Florida Atlantic University
Naomi Clay, University of Puerto Rico, Ponce
Jordan Couceyro, Vanderbilt University
Mariah De Zuzuarregui, UC Berkeley
Colleah Gilbert, Florida A&M University
Nhu Huynh, Washington State University
Gygeria Manuel, Spelman College
Kyarangelie Martí Torres, University of Puerto Rico, Rio Piedras
Julia Mattingly, University of Georgia
Kori Quillin, Tuskegee University
Lourdes Quintana-Acevedo, University of Puerto Rico, Aguadilla
Austin Sims, University of Pittsburgh
Carlton Smith, Florida A&M University
Roberto Sotomayor-Mena, University of Puerto Rico, Mayaguez
Simone Symonette, Florida A&M University
"We are grateful to senior leadership and faculty at Morehouse School of Medicine, including President, Dr. Valerie Montgomery Rice, Dr. Thompson, Dr. Danita Eatman and her lab coordinator Veronica Henderson, for hosting this important educational training program. We are also thrilled to benefit from the newly renovated labs and lecture rooms on the MSM campus," said Gerald Schatten, Ph.D., Director, Division of Developmental & Regenerative Medicine at the University of Pittsburgh.
Additional co-directors of the course include Laura Niedernhofer, M.D., Ph.D., Director of the University of Minnesota Medical School's newly founded Institute on the Biology of Aging and Metabolism and J. Michal Jazwinski, Ph.D. who directs Tulane University's Center for Aging. "Unless innovative strategies are discovered, and more effective treatments implemented, we are in danger of losing our aging family members, neighbors, friends, and colleagues to this epidemic, and we all are benefiting from the impressive investments in research sponsored by the National Institute of Aging," says Dr. Schatten.