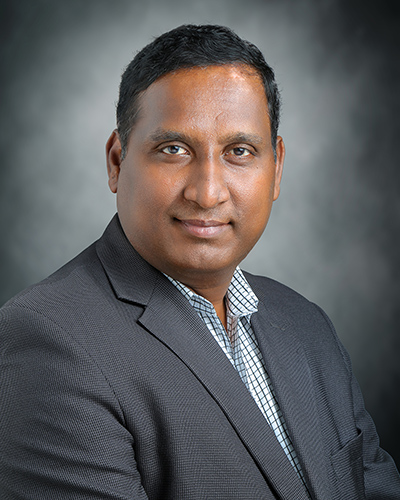 Kameswara Badri, Ph.D., MB (ASCP)CM
Assistant Professor
Pharmacology & Toxicology

Cardiovascular Research Institute
Location: Research Wing 206
Phone: (404) 756-5025
E-mail: kbadri@msm.edu
Education
GRADUATE:

Sri Venkateswara University, Tirupati, India

Degree:
Doctor of Philosophy in Biochemistry
Sri Venkateswara University, Tirupati, India

Degree:
Master of Science in Biochemistry
UNDERGRADUATE:
Silver Jubilee Government Degree College, Kurnool, India
Degree: Bachelor of Science

CERTIFICATION:
American Society of Clinical Pathologists
Molecular Biology, MB (ASCP)CM
Research Interests
Molecular mechanisms of adipogenesis and smooth muscle myogenesis, and associated disorders
Health disparities
Drug discovery
Clinical Interests
Metabolic disorders: Obesity, Diabetes Mellitus, Hypertension
Publications
Nunez, S., Young, C., Adebayo, O., Muppuru, K.M., Badri, K.R. * 2019. P311, a novel intrinsically disordered protein, regulates adipocytes development. Biochem Biophys Res Commun. 515 (1): 234-240. (Corresponding senior author)
Kotha, P., Marella, S., Allagadda, R., Badri, K.R*., Chippada, A*. 2019. Evaluation of biochemical mechanism of anti-diabetic functions of Anisomeles malabarica. Biomedicine & Pharmacotherapy. 112. (* Co-corresponding senior author).
Badri, K.R., Yue, M., Carretero, O., Aramgam, S., Cao, J., Sharkady, S., Kim, G, Taylor, G., Byron, K., Schuger, L. 2013. Blood pressure homeostasis is maintained by a P311-TGF-β axis. Journal of Clinical Investigation. 123 (10) 4502-4512.
Badri, K.R., Gao, L., Hyjek, E., Schuger, N., Schuger, L., Qin, W., Chekaluk, Y., Kwiatkowski, D., Zhe, X. 2013. Exonic mutations of TSC2/TSC1 are common but not seen in all sporadic pulmonary Lymphagioleiomyomatosis (LAM). American Journal of Respiratory and Critical Care Medicine. 187, 663-665.
Badri, K.R., Zhou, Y., Dhru, U., Aramgam, S., and Schuger, L. 2008. Effects of the SANT domain of tension induced/inhibited proteins (TIPs), novel partners of the histone acetyltransferase p300, on p300 activity and TIP-6-induced adipogenesis. Molecular and Cellular Biology, 28 (20), 6358-6372.
Honors and Awards
Elected as Advocacy Representative for the American Physiology Society -Endocrinology & Metabolism Section Steering Committee (2020 – 2023).
Recognized for Exemplary Service, ASIOA Inc. 2018.
Recognized for Outstanding Service to Savannah State University (SSU)-COST Regional Science and Engineering Fair (2012-2015), 2015.
Received Outstanding Contribution Award – Student Educational Enrichment Program, Georgia Regents University 2014.
Advocacy Respresentative - Twice represented American Thoracic Society and attended Hill Day at Washington DC to request more funding for NIH, and VA, and prevention of TB, March 2013 and 2014.
Received Talented Scientist Award, International Conference on Medicinal Plants and Herbal Products, Rockville, MD, 2012.