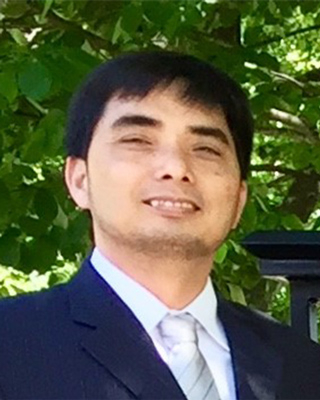 Hao Anh Duong, Ph.D.
Assistant Professor
Pharmacology & Toxicology

Location: Research Wing D305
Phone: (404) 752-1710
E-mail: hduong@msm.edu
Education
POSTGRADUATE:
Harvard Medical School
Neurobiology

GRADUATE:
University of California, Los Angeles, California
Degree: Doctor of Philosophy, Biochemistry/Molecular Genetics

University of California, San Diego, California
Degree: Master of Science, Biochemistry

UNDERGRADUATE:
University of California, San Diego, California
Degree: Bachelor of Science, Chemistry/Biochemistry


Research Interests
The roles of the circadian clock in spatiotemporal integration of biological functions.
Without proper organization of molecular processes cells are just bags of molecules performing "Brownian" functions. It is the orderly coordination, in time and space, of molecular events that defines cellular physiology and among physiological processes that gives rise to tissue functions, which in turn organizes animal behaviors. The behaviors need be conformed to environmental conditions for the organism's fitness. The circadian clock, the endogenous timing system that exists in most cells to help the organism predicts and responds to changes in environmental conditions, is emerging as the global temporal organizer, and possibly a spatial organizer, of these processes. Our laboratory is interested in deciphering these roles of the circadian clock.

Currently, we are studying potential roles of a class of histone methylation enzymes in the orchestration of daily external environmental cycles and internal physiological rhythms and its pathological implications. Perturbations of this orchestration, termed environmental circadian disruption, accelerate the development of multiples metabolic, cardiovascular and neurodegenerative disorders and cancers such as obesity, arrythmia, Alzheimer and breast cancer.
Publications
Tamayo AG, Duong HA, Robles MS, Mann M and Weitz CJ. (2015). Histone mono-ubiquitination by a Clock-Bmal1 complex marks circadian genes for feedback repression. Nature Structural & Molecular Biology. 22(10):759-66.
Kim JY, Kwak PB, Gebert M, Duong HA and Weitz CJ (2015). Purification and analysis of PERIOD protein complexes of the mammalian circadian clock. Methods in Enzymology 551:197-210.
Duong HA. and Weitz CJ (2014). Temporal orchestration of repressive chromatin modifiers by mammalian circadian clock PERIOD complexes. Nature Structural & Molecular Biology 21:126-32.
Duong HA*, Robles MS*, Knutti D and Weitz CJ (2011). A molecular mechanism for circadian clock negative feedback. Science 332:1436-9. *Equal contribution

#Editors' choice. L. B. Ray, Molecular Clockwork. Science Signaling 4, ec176
#Commented in Faculty of 1000, Kyriacou C: 2011. F1000.com/11539956#eval12586054
#Commented in Faculty of 1000, Nitabach M: 2011. F1000.com/11916957#eval13031056

Duong HA, Nagaraj R, Wang CW, Ratnaparkhi G, Sun YH and Courey AJ (2008). Non-cell-autonomous inhibition of photoreceptor development by Dip3. Developmental Biology. 323:105-13
Honors and Awards
2014-2015 Mahoney Research Fellow
2010 Research Merit Award, Society for Research on Biological Rhythms
2008-2010 NRSA Postdoctoral Fellow
2006-2007 UCLA Dissertation Research Award, UCLA
2005 R&D Wilson Graduate Research Fellow
1998 UCSD Summer Research Fellow