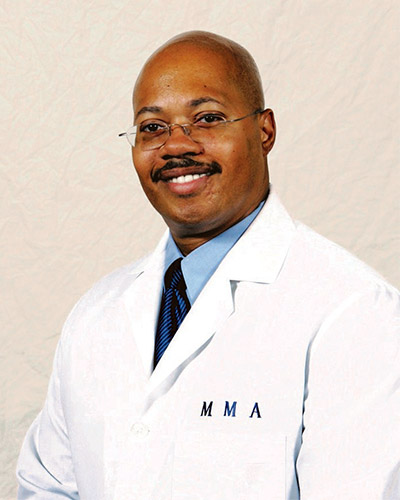 Franklyn Geary, Jr. M.D., FACOG
Program Director
Professor
Obstetrics & Gynecology
Location: Grady Health
Phone: 404-616-1691
E-mail: fgeary@msm.edu
Education
MEDICAL SCHOOL:
Emory University School of Medicine
Degree: Doctor of Medicine
Research Interests
Gestational Diabetes

HIV in Pregnancy

Domestic Violence

Depression

Resident Education
Clinical Interests
High Risk Complications of Pregnancy; Prenatal Diagnosis with Ultrasound and Prenatal Diagnosis Testing and Treatment
Specialties
High Risk Complications of Pregnancy

Prenatal Diagnosis with Ultrasound and Prenatal Diagnosis Testing & Treatment
Board Certification
American Board of
General OB/GYN
American Board of OB/GYN Maternal Fetal Medicine
Publications
Geary FH Jr, Turnquest Wells MA. Management of the patient in labor who has abused substances. Clin Obstet Gynecol. 2013 Mar;56(1):166-72. doi: 10.1097/GRF.0b013e318282738b. Review. PMID: 23370170

Disher AC, Geary FH Jr. Pulmonary imaging during pregnancy. Clin Obstet Gynecol. 2010 Jun;53(2):337-44. doi: 10.1097/GRF.0b013e3181deaabb. Review. PMID: 20436309

Seivwright TL, Geary FH, Matthews RP, MD, Gregory-Bass R. Recurrence and transformation of a sacrococcygeal teratoma in a young woman. Resident & Staff Physician; 2008; Vol. 54: No. 4

Geary, FH, Wingate, C. "Domestic Violence and Physical Abuse of Women: The Grady Memorial Hospital Experience." Am J Obstet Gynecol 1999; 181:S17-S21.

Geary FH, Lindsay MK, Graves WL, et al. HIV Infection in not a Risk Factor for Adverse Perinatal Outcome. Journal of Maternal Fetal Medicine, 1995; Vol.4:29-34.
Honors and Awards
2007: Council on Residency Education in Obstetrics and Gynecology National Faculty Teaching Award

2002: Alpha Omega Alpha Medical Honor Society, Morehouse School of Medicine