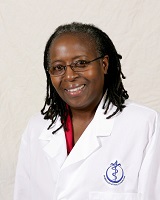 Gloria Elaine B. Westney, M.D., M.S.C.R., FCCP
Professor
Medicine

Pulmonary & Critical Care Medicine
Phone: 404-616-8201
E-mail: gwestney@msm.edu
Education
POSTGRADUATE:
Maryland Institute for Emergency Medical Services Systems
Fellowship: R. Adams Cowley Shock Trauma Center

University of Toronto, Department of Respirology
Fellowship: Lung Cell Biology and Lung Transplantation

Howard University Hospital
Fellowship: Pulmonary Medicine and Internal Medicine

MEDICAL SCHOOL:
University of Louisville School of Medicine, Louisville, Kentucky
Degree: Doctor of Medicine


GRADUATE:
Morehouse School of Medicine
Degree: Masters of Science in Clinical Research
Research Interests
Sarcoidosis Disease Severity in African Americans

Impact of Comorbid Illnesses on the Immune Expression in Sarcoidosis
Clinical Interests
Sarcoidosis

Interstitial Lung Diseases

COPD and Asthma

Obesity related Pulmonary Illnesses
Specialties
Pulmonary

Critical Care Medicine
Board Certification
Internal Medicine

Pulmonary Medicine

Critical Care Medicine
Publications
Han MK, Curran-Everett D, Dransfield MT, Criner GJ, Zhang L, Murphy JR, Hansel NN, DeMeo DL, Hanania NA, Regan EA, Make BJ, Martinez FJ, Westney GE, Foreman MG; COPDGene Investigators. Racial differences in quality of life in patients with COPD. Chest. 2011 Nov;140(5):1169-76. doi: 10.1378/chest.10-2869. Epub 2011 Jun 2. PMID: 21636665

Foreman MG, Mannino DM, Kamugisha L, Westney GE. Hospitalization for patients with sarcoidosis: 1979-2000. Sarcoidosis Vasc Diffuse Lung Dis. 2006 Jun;23(2):124-9. PMID: 17937108

Westney GE, Habib S, Quarshie A. Comorbid illnesses and chest radiographic severity in African-American sarcoidosis patients. Lung. 2007 May-Jun;185(3):131-7. Epub 2007 Mar 24.PMID: 17384899

Westney GE, Judson MA. Racial and ethnic disparities in sarcoidosis: from genetics to socioeconomics. Clin Chest Med. 2006 Sep;27(3):453-62, vi. Review. PMID: 16880055

Mabo E, Edeki T, Westney GE, Reed JW, Guo X. Erythrocytosis in a scleroderma patient. Mt Sinai J Med. 2006 May;73(3):620-1. PMID: 16758101

Westney GE, Harris EN. Catastrophic antiphospholipid syndrome in the intensive care unit. Crit Care Clin. 2002 Oct;18(4):805-17. Review. PMID: 12418442


Click here to view additional publications.
Honors and Awards
Participant in PRIDE-GE