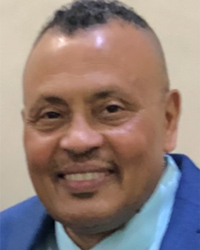 Mohamed Mubasher, M.A., Ph.D.
Professor
Community Health & Preventive Medicine

Senior Research Design & Biostatistician; U54 Cancer Partnership Biostatistics, Bioinformatics Core Co-Leader, MSM Research Design and Biostatistics Core Co-Leader
Location: MRC Annex S-10
Phone: 404-756-1865
E-mail: mmubasher@msm.edu
Education
POSTGRADUATE:
Human Leukocyte Antigen and haplotype data analysis

GRADUATE:
University of Pittsburgh
Degree: MA, Applied Statistics/ Mathematics

University of Pittsburgh
Degree: PhD, Biostatistics/ Epidemiology, Mathematical Statistics, Statistical Computations/ Numerical Methods, Population Genetics

UNDERGRADUATE:
University of Khartoum, Sudan, BSc Statistics
Research Interests
Independent Investigator/co-investigator and Senior Research Design & Biostatistician in the areas of Clinical Trials/clinical research with areas of application in: type I diabetes, cancer, epidemiology, CVD-related resilience, community-based participatory studies, health disparity, cancer health equity, and genetics/ Human Leukocyte Antigen (HLA) haplotype-characterization & analyses.
Mentor and coach of graduate students, residents, fellows, clinicians & early stage investigators in research design, conduct, analyses, dissemination and development of extramural research application for funding.
Expert in design, conduct, interim analyses, Bayesian imputation, analysis and reporting of clinical research and clinical trials, epidemiological, population-based & longitudinal studies.
Experienced investigator in propriety industry-based study designs, implementation and reporting of Health Promoting Natural Products including probiotics, prebiotics and other Chinese Traditional Medicinal plants and their approval processes through US/ EU/China/Brazil-regulatory agencies (FDA or equivalent).
Teaches online and in-class Fundamentals of Biostatistics, Design and Analysis of Clinical Trials, Survival data analyses, Dichotomous & Polytomous Logistic Regression, Multiple Linear Regression & Generalized Linear Mixed Modeling/Hierarchical and Nested models.
Proficient in statistical computational software like SAS, R, Stata and SPSS.
Publications
Elsheikh NE, Khalil E, Mubasher M, et al, Elghazali G. Association of HLA‐DR‐DQ alleles, haplotypes, and diplotypes with Type 1 diabetes in Saudis. April 2020. Diabetes/Metabolism Research & Reviews. DOI: 10.1002/dmrr.3345
Michelle L Katz, Craig R Kollman, Carly E Dougher, Mubasher M, L. M.B. Laffel. Influence of HbA1c and BMI on Lipid Trajectories in Youths and Young Adults With Type 1 Diabetes. October 2016. Diabetes care 40(1). DOI: 10.2337/dc16-0430
Mubasher M, Rockette H. Stopping Rules for Long Term Clinical Trials Based on Two Consecutive Rejections of the Null Hypothesis, March 2016, Communication in Statistics- Theory and Methods 46(3):00-00, DOI:10.1080/03610926.2015.1019142
Ofili, E., Brown, M., Okirie, D., Pemu, P., Franklin, C. G., Suk, Y., Quarshie, A., Mubasher, M., Sow, C. M., Montgomery Rice, V., Mack, D., Daniel, D. (2019). Morehouse Choice Accountable Care Organization and Education System (MCACO-ES): Integrated Model Delivering Equitable Quality Care. In Paul B. Tchounwou (Ed.), Special Issue Proceedings of Research Centers at Minority Institutions (RCMI) Translational Science 2017 Conference. (3084th ed., vol. 16, pp. 13). Journal: Int. J. Environ. Res. Public Health, 2019. www.mdpi.com/journal/ijerph
Danner, O. K., Kelly, A., Chavez, R., Sola, R., Johnson, S., Butler, C., Nguyen, J., Hobson, L., Udobi, K., Childs, E. W., Mubasher, M. (2020). Characterization of Hospitalized Patients with Residual Disability: Does Home Durable Medical Equipment Setup Requirements Represent a Barrier to Home Discharge? (pp. 9).
Honors and Awards
Invited Presenter, International Society of Clinical Trials, May, 2017, Liverpool, UK.