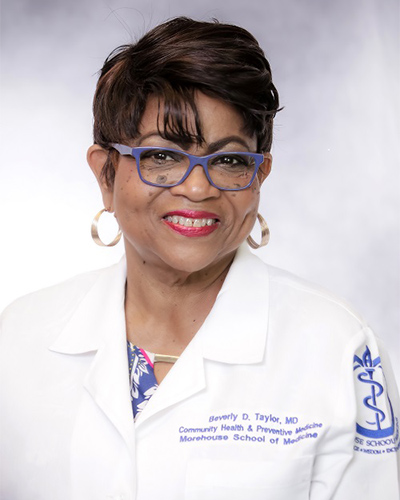 Beverly Deaderick Taylor, M.D.
Professor and Chair
Community Health & Preventive Medicine

Associate Director
Public Health/Preventive Medicine Residency Program
Location: National Center for Primary Care, Suite 335 A
Phone: 404-752-1518
E-mail: btaylor@msm.edu
Education
POSTGRADUATE:
George Hubbard Hospital, Meharry Medical College
Residency: Family Medicine & Clinical Preventive Medicine


MEDICAL SCHOOL:
Meharry Medical College
Degree: Doctor of Medicine


UNDERGRADUATE:
Fisk University
Degree: Bachelor of Biology
Research Interests
Cancer Prevention and Control
Graduate Medical Education
Board Certification
American Board of Family Practice
American Academy of Family Physicians
American College of Preventive Medicine
Publications
Murphy, F.G., Taylor,B.D. Community health and urban revitalization in the 21st century. American Journal of Health Studies, 2020 June.
Taylor, B., Buckner, A. V., Durham-Walker, C., Azonobi, I. C. Training residents to address cancer health disparities. Journal of Graduate Medical Education, 2012, 4(1), 72-75.
Crosby, A. E., Buckner, A. V., Taylor, B. Addressing Self-Directed Violence Preventive Medicine Practitioners. Am J. Lifetyle Medicine, 2011 October; 418-427.
Honors and Awards
2020: Joseph D. Green Award for Community Service, Georgia Healthcare Foundation, Atlanta, GA.
2016: Faculty Development Award for academic leadership, Morehouse School of Medicine, for Leadership in promoting the academic development of faculty at MSM.
2014: Leadership Award, Morehouse School of Medicine, Presented by Dean Montgomery Rice for outstanding leadership and fostering a positive and motivating work environment.
2009-2008: In recognition of exemplary service to others, integrity, clinical excellence and compassionate and respectful relationships with patients, families and colleagues. Listed in the Cambridge Who's Who Registry of Executives Professionals and Entrepreneurs as a VIP
2008-2003: Member, Physician's Training Award Review Board, American Cancer Society, National Office, Atlanta Georgia. This Review Board evaluates grant applications for preventive medicine residency programs seeking to develop a cancer prevention track within existing preventive medicine residency training programs
2005: Inducted into the Arnold P. Gold Foundation Humanism Honor Society
2002: Inducted into the Alpha Lambda Chapter of the Delta Omega Society, Morehouse School of Medicine
2001: Women's Health Initiative Award, "In the Presence of Elders" honoring women who have made contributions to science and medicine.
2001: "Humanism in Medicine Award", from the Jewish Foundation of New Jersey. Presented during Class Day for the Morehouse School Medicine 2001 graduating class