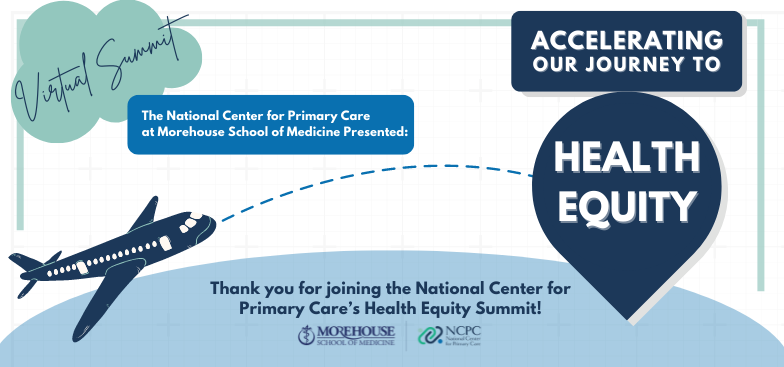 Thank you for joining the National Center for Primary Care's Health Equity Summit!
The event has concluded, but you can view session recordings below.
For more information, contact Mitchell Blount, MPH at mblount@msm.edu
The co-occurring crises of the COVID-19 pandemic and racism – both structural and interpersonal – have galvanized our nation's interest in addressing longstanding health inequities. Nationwide protests for racial justice and an end to police violence, the loss of nearly a million US lives due to COVID-19 (more than 6 million deaths globally), growing outrage and advocacy to support those with chronic illness and disability, and the unpredictable effects of ongoing and collective fatigue, grief and trauma have placed our nation at a critical juncture in its reckoning with social injustices and health inequities. This confluence of recent events has positioned health equity and social justice as a key priority across sectors, disciplines, and communities. These events have affected the provision of primary care, health policy and the public's trust in the nation's public health and health care systems. From patient well-being to collective health, our approaches to how we do the work to achieve health equity has urgently shifted to accommodate increasing population need during COVID-19. More than 30 years after the federal government formally recognized health inequities in the landmark Heckler Report, unified momentum for meaningful change is at an unprecedented level.
This event was provided by leaders from the National Center for Primary Care for a 2-day virtual summit, which emphasized the national imperative to achieve health equity, discussed strategies for leveraging the current "window of opportunity," and amplified the roles of primary care, innovation, and leadership in this effort. The summit concluded with a call to action for individuals and organizations to implement the strategies needed to ultimately achieve health equity.
Event Objectives
Assess the role of primary care, innovation, and leadership in the historical and ongoing efforts to advance health equity
Discuss concrete strategies and specific examples of initiatives that advance health equity across sectors, disciplines, and communities
Recognize leaders and organizations who have demonstrated leadership and pushed their organizations to achieve health equity
Lay the foundation for a collective roadmap to health equity through leadership, innovation and primary care
About the National Center for Primary Care
The National Center for Primary Care (NCPC) at Morehouse School of Medicine has a long history of leading efforts to advance health equity. In 1997, under the leadership of Dr. Louis Sullivan, former Secretary of the U.S. Department of Health and Human Services and President Emeritus of Morehouse School of Medicine (MSM), the NCPC became the first congressionally sanctioned center to develop programs that strengthened the primary care system with a focus on health equity and sustainability. Over the last 24 years, the NCPC has produced internationally recognized research and training programs, supported the development of a strong, diverse, and inclusive primary care workforce, and has leveraged its work to inform policies that advance health equity.
Featured Speakers
Dr. Todd Ellis, Principal, Health and Government Solutions,

KPMG US

Ann Greiner, President &

Executive Director, Primary Care Collaborative

Mayor Deana Holiday Ingraham,

34th mayor of East Point, Georgia

Dr. Dominic Mack

, Director, National Center for Primary Care at Morehouse School of Medicine
Dr. Dayna Bowen Matthew, Dean and Harold H. Greene Professor of Law, George Washington University Law School
Dr. Kameron Lee Matthews, Chief Health Officer, Cityblock Health

Benjamin Money

, Senior Vice President for Public Health Priorities, National Association of Community Health Centers

Dr. George Rust

, Director, Center for Medicine and Public Health, Florida State University, and former Director, National Center for Primary Care at Morehouse School of Medicine

Dr. David Satcher

, 16th U.S. Surgeon General and former Director, National Center for Primary Care at Morehouse School of Medicine
Dr. Brian Smedley

, Equity Scholar, Senior Fellow, Urban Institute

Dr. Judith Steinberg, Senior Advisor, Immediate Office of the Assistant Secretary for Health, US Department of Health and Human Services

Tanisha M. Sullivan, Esq., Sanofi Fellow, CEO Action for Racial Equity & President, NAACP Boston