MSM Begins High School Youth Medical Mentoring Program
Atlanta Public and DeKalb County School Students Enter Healthcare Pipeline

Update: American College of Surgeons (ACS) Executive Director Dr. David Hoyt highlights Dr. Omar Danner's Reach One Each One mentorship program in the July 2016 edition of the ACS Bulletin.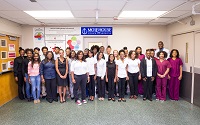 Morehouse School of Medicine (MSM) welcomed nearly 30 high school juniors and seniors at Grady Memorial Hospital for the 2014 Reach One Each One (ROEO) Youth Medical Mentoring Program orientation held Sept. 25, 2014.
A collaboration of Grady Health System, Morehouse School of Medicine, and Emory School of Medicine, the program is designed to introduce and expose high-performing students from underrepresented backgrounds who are interested in pursuing medical careers to various specialties during an intensive 10-week course.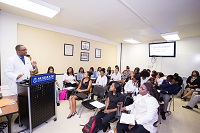 "I wish this type program were available to me during my early years," said Omar Danner, M.D., FACS, trauma surgeon and surgical critical care specialist at Grady Memorial Hospital, associate professor of surgery at MSM, and program director of ROEO. "Part of MSM's mission is to prepare interested minority students for health care professions and transition them into the pipeline to increase diversity within the medical and scientific fields. ROEO aligns well with our history of accomplishing this objective.
"President and Dean Valerie Montgomery Rice, M.D., has been instrumental in increasing MSM's class size over the past three years. We are hopeful the ROEO participants remember us as they advance their dreams of becoming physicians, scientists, and researchers," he continued.
Dr. Danner spearheaded the project in 2013 with the support of Grady's Emma Harrington and Felicia Mobley along with Emory School of Medicine's Adetolu Oyewo, M.D., when 17 Atlanta Public Schools (APS) and DeKalb County Schools students successfully completed and graduated from the ROEO program. To date, several of those graduates are pre-med students attending Columbus State University, Georgia Piedmont Technical College, Georgia Perimeter, Georgia Southern University, Gordon State College, Atlanta Technical College, Atlanta Metropolitan College, The University of Alabama at Birmingham, Tuskegee University, and Xavier University of Louisiana, to name a few.
The 2014 class represents APS schools Benjamin E. Mays, Carver School of Health Sciences and Research, Daniel McLaughlin Therrell High School, Henry W. Grady High School, and South Atlanta School of Health and Medical Sciences. Seven students from Cedar Grove High School represent DeKalb County. All students are enrolled in science- and technology-based curriculum.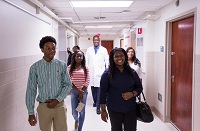 ROEO includes an overview of the path to medical school; comprehensive exposure to the field of healthcare; explanation of the Health Insurance Portability and Accountability Act (HIPAA); a healthcare professional career day; a financial literacy seminar compliments of Fifth Third Bank; a tour of MSM and Emory Medical School; skills lab with hands-on simulation, knot tying, and casting; and multidisciplinary clinical rotations in emergency medicine, internal medicine, neuroscience and critical care, obstetrics and gynecology, and surgery/anesthesia. The program will culminate with a graduation ceremony in December. Mentoring also continues following the program.
For more information about ROEO, contact Dr. Danner at odanner@msm.edu.
The Reach One Each One Program is sponsored in part by: