Hank Aaron Funeral Remarks | Dr. Montgomery Rice
Wednesday, January 27, 2021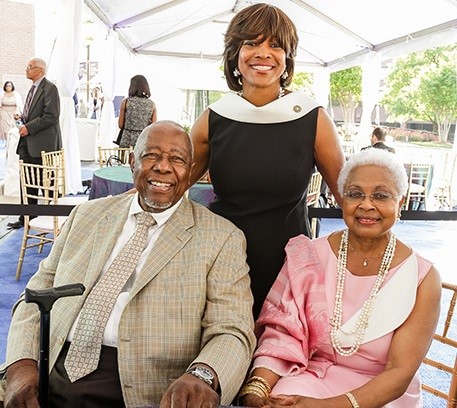 At Morehouse School of Medicine, Hank and Billye Suber Aaron have always been more than major supporters of the school, more than cherished friends of the institution — they are family.
So today it is with great honor and with sadness that I come to pay tribute to Mr. Hank Aaron-- a baseball legend, a man of character, integrity, generosity, and kindness. He is a true icon.
The world knows Hank Aaron as a trailblazing athlete, a man who faced incredible odds as he beat Babe Ruth's home-run record and held the title for 33 years. But, to Morehouse School of Medicine and to me, he was all of that and so much more. He was a stellar citizen, businessperson, advocate, philanthropist, mentor, and friend.
The Hank Aaron I know was incredibly generous with his time, talent, and treasure. He was devoted to Morehouse School of Medicine and our vision for health equity. That included a $3-million gift to expand our Hugh M. Gloster Medical Education Building and create the Billye Suber Aaron Student Pavilion — a fitting tribute to his wife and her longstanding commitment to education and MSM. We then decided to honor him with the school's Vanguard Award, there was no question that he deserved it. Mr. Aaron understood the importance of not only making a living with the gift, but also making a life with the proceeds of the gift.
Personally, I have had the honor of knowing Mr. Aaron and Billye for many years, starting in my college days. We were introduced by my college roommate and lifelong friend Wonya Lucas. At social and civic events, the Aarons always invited me to sit at their table. They treated me like family.
When I would ask Mr. Aaron for help, support, or counsel, he would be there. Because, for all of his prominence, Mr. Aaron was a humble person who always reminded me to work hard and stick to my values. "Don't tell everybody what you are doing — just show them," he'd say. And that's how he lived… every day of his life.
Mr. Aaron will be remembered for all the home runs he hit, but his true legacy is seen in the lives he has changed for the better. He inspired us, motivated us, encouraged us, and set a shining example of what it means to be a good person. At Morehouse School of Medicine, we say the world needs what we do best. I can tell you that this world needed what Hank Aaron did best.
To Mrs. Billye Suber Aaron, to the Aaron children, your extended family, and friends — we at Morehouse School of Medicine thank you for sharing him with us. We will miss him dearly.